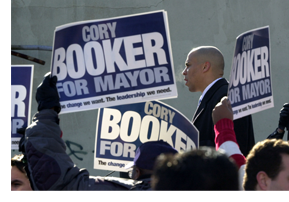 About Street Fight

Street Fight
is the Oscar-nominated documentary chronicling the bare-knuckles race for Mayor of Newark, N.J. between Cory Booker, a 32-year-old Rhodes Scholar/Yale Law School grad, and Sharpe James, the four-term incumbent and undisputed champion of New Jersey politics.
Fought in Newark's neighborhoods and housing projects, the battle pits Booker against an old style political machine that uses any means necessary to crush its opponents: city workers who do not support the mayor are demoted; "disloyal" businesses are targeted by code enforcement; a campaigner is detained and accused of terrorism; and disks of voter data are burglarized in the night.
Even the filmmaker is dragged into the slugfest, and by election day, the climate becomes so heated that the Federal government is forced to send in observers to watch for cheating and violence.
The battle sheds light on important American questions about democracy, power and -- in a surprising twist -- race. Both Booker and James are African-American Democrats, but when the mayor accuses the Ivy League educated Booker of not being "really black" it forces voters to examine both how we define race in this country. "We tell our children to get educated," one Newarker says, "and when they do, we call them white. What kind of a message does that send?"
Street Fight tells a gripping story of the underbelly of democracy where elections are not about spin-doctors, media consultants, or photo ops. In Newark, we discover, elections are won and lost in the streets.


Awards

Academy Award Nominee -- Best Documentary Feature
Emmy Award Nominee -- News and Documentary Category
Tribeca Film Festival – Audience Award
Hot Docs Film Festival – Audience Award
Hot Docs Film Festival – Best Documentary (International Feature)
AFI/Silverdocs Film Festival – Audience Award
WatchDocs, Human Rights International Film Festival – Audience Award
Ashland Independent Film Festival – Best Documentary
Chicago Film Festival Award for Excellence in Television – Winner Gold Hugo for Best Program
International Documentary Association -- Jacqueline Donnet Filmmaker Award
International Documentary Association Nominee -- Distinguished Documentary Achevement Award
Writer's Guild of America -- Documentary Screenplay Award Nominee
Cine Golden Eagle Winner
American Library Association - VRT Notable Videos


Credits

Directed, Produced, Photographed and Written by Marshall Curry

Executive Producers: Liz Garbus and Rory Kennedy
Executive Producer for P.O.V.: Cara Mertes
Executive Producer for ITVS: Sally Jo Fifer

Edited by Marshall Curry
Additional Editing by Mary Manhardt

Original Music by James Baxter

Associate Producers: Catherine Jones, Marisa Karplus
Additional Camera: Tony Hardmon; Stewart MacLennan; Ed Beason and Vikram Gandhi; Catherine Jones; Jim Brennan and Heather Murphy Grant; Matt Klapper; Aaron Woolf and Sam Cullman; Fred Lee
Additional Editing: Rachel Kittner
Assistant Editor: Matt Hamachek
Story Consultant: Adam Etline
Production Consultant: Julie Gaither
Archival Research: Jessica Perez, Angela Jimenez
Production Interns: Carolyn Tate, Miriam Wallen
Re-recording Mixer: Paul Hsu
Post Production Sound: C5, Inc.
Online Editor: Julie Farol
Online Facility: Arc Pictures, NYC
Voice Over recorded at Digit Audio by John Moros
Music licensing: The Rights Workshop
Title Design: Cruz Dann Productions
Legal Services provided by:
Jean Voutsinas, Esq. and Victoria Cook, Esq., Frankfurt, Kurnit, Klein & Selz
Special Thanks: Elizabeth Martin, Boykin Curry, Caroline Curry, Mom, Dad, Rob Davis, Celerie Kemble, Jane Morrison Martin Curry, Yun
Thank you: ACLU of New Jersey, Laird Adamson, Melinda Arons, Mark Bailey, Emily Barton, Matt Berninger, Carin Besser, Marc Borkan, Arianne Burger, Joe Calto, Dana Cimilluca, Dan Cogan, Nancy Felsten, Tommy Finkelstein, Jill Footlick, Anthony Foxx, Cynthia Glasgow, Elizabeth Holder, Luke Hughett, Jordan Jan, Neil Kammerman, Gayle King, Amanda F. Martin, Albert Maysles, Liz Mermin, Jesse Moss, Judith Moyers, Rob Nathan, Icon Nicholson, Xan Parker, Gary Peters, Rachel Peters, Heidi Reinberg, Cynthia Wade, Jason Watt.
Thank you to the Cory Booker campaign, the Sharpe James campaign, Dwayne Smith, and all of the people of Newark, New Jersey.
This program was made possible by funding from The Corporation for Public Broadcasting, a private corporation funded by the American people.
Street Fight is a Marshall Curry Productions, LLC film, in association with Moxie Firecracker Films. A co-production of the Independent Television

© 2012 Marshall Curry Productions. All rights reserved.